Facebook Page Insights gets a makeover
By: Chloe Rolph
July 26, 2013 | Reading Time: 2 mins
Last week, Facebook rolled out a new and improved Page Insights interface as a result of feedback from Page managers.  Don't notice anything new? Don't worry, they're rolling out the changes gradually and you'll soon see a prompt on your Insights page to try it out. According to the company's official announcement, these changes will help brands and companies not only better understand metrics but also how to action them.
Back in June, we gave our blog readers a comprehensive overview of Facebook Page Insights, and today we'll just go over some key changes from last week's makeover:
People Talking About This (PTAT), Broken Down
PTAT is used to combine all kinds of interactions with a Page into one metric (Page Likes, tagging, check-ins, event and poll responses, and post comments, shares, and Likes). But managers wanted to be able to dig deeper and be able to spot differences in how people interact with their Page and posts separately.  In the new Insights format, these elements are now broken down individually.
Virality to Engagement Rate
Virality is one of the most important Page post metrics but didn't include clicks, arguably one of the most important measures of engagement. You can now expect to see clicks included in this metric under the new name "engagement rate".
Post Scorecards
Facebook is making it easier than ever to evaluate the effectiveness of a particular post. They've aggregated each measure into one "scorecard", which you can find under the "Posts" tab of Insights by clicking on any post.  In one tidy card, find out how many people you reached, how many people clicked and what they clicked on, how many people Liked, commented on, and shared it, and finally, how many people engaged negatively by hiding it, hiding all posts, unliking the page, or reporting it as spam.  This new scorecard feature allows you to better understand how to improve your content going forward to attain greater reach.  Here's what they look like: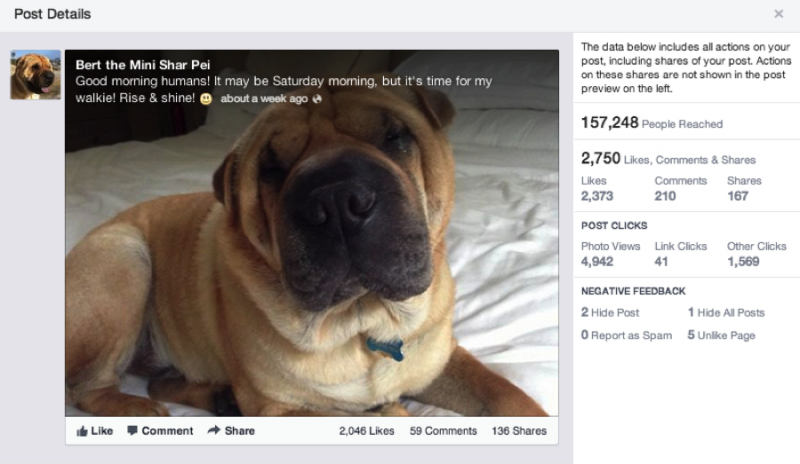 Get to Know Your Engaged Fans
We've always been able to see a snapshot of the demographics of a fan base including gender, age, country, city, and language. With the new Facebook Insights, you can now see these same demographics for the part of your fan base that is most engaged with your content. This will help Page managers figure out what resonates with whom, and how to make sure they are engaging the right audiences.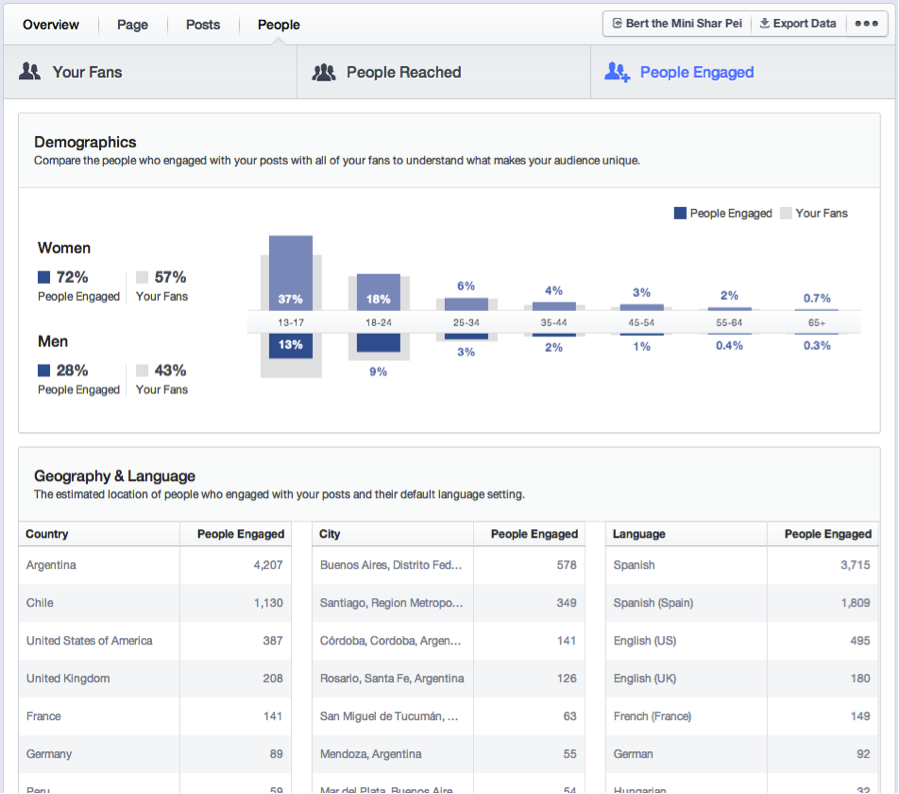 Do you think these changes will make a significant difference in the way you evaluate your Page's engagement?