Facebook changes changing the way marketers will need to think
By: Chloe Rolph
October 6, 2011 | Reading Time: 2 mins
In the last few weeks, Facebook has announced some major changes that will affect the way users engage on the platform.  Some of these changes will benefit marketers, and others will make our lives more difficult.  Either way, as Facebook marketers, we need to change the way we think in order to continue to be effective.  The developers are no longer focusing on attracting sign-ups—they have had 800 million of those—but are now focused on enhancing user experience.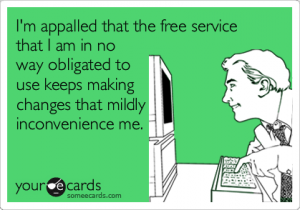 The new Ticker moves "lightweight" information from the main news feed to a faster-moving feed with less visibility.  To ensure your message doesn't end up there, it needs to be both interesting and relevant to your followers, collecting not only "Likes" but actions.  The new Facebook will decide whether it makes the cut based on measuring the user engagement surrounding your updates.  But your job isn't finished yet once you've escaped the Ticker.  Users now have even more control of their news feed content with the option to mark and unmark what can appear as a "Top Story".
The introduction of the Timeline will soon transform a user's profile into one big life story marking important events, milestones, and other interactions. Will your brand be Timeline-worthy?  Only truly meaningful content will appear.
So what is the big takeaway from all of this?  Facebook is no longer your broadcast channel to simply reiterate the same old key messaging.  Engaging fans in meaningful two-way dialogue will be crucial in being able to catch and keep the attention of fans.  Your brand is no longer entitled to exposure just because it exists – you have to earn your keep.  Be strategic, be creative, be targeted, and be unique.