A guide to Facebook Insights for Page Managers
By: Chloe Rolph
June 27, 2013 | Reading Time: 6 mins
If you are a Page manager, you've likely delved into some of the Facebook Insights that your admin privileges give you access to.  I've found that the way some of the metrics are expressed on the back end can be a little cryptic. Today I wanted to dig deeper on the meaning of these insights because taking the time to understand these metrics is crucial in evaluating and optimizing the performance of each post and your Page as a whole.
Overall Page Performance
On your Page insights tab (Page admins can access this by clicking "See All" in the Insights box above the cover photo), you'll notice 4 tabs across the navigation bar:
Overview
The overview provided on this page is fairly straightforward in terms of giving you a snapshot of your Page's current status and pairing it with metrics (expressed as a percentage) about how performance has changed within the past week. There are a few features in particular that I would like to point out:
"Friends of Fans" tells you how many individual users are friends with people that are fans of your Page—or in other words, they're your second-degree connections. Who cares? You should! These are the people that are most likely to see your posts as a result of their friends' interactions, and assuming that friends tend to share some of the same interests, they may be more likely than the average user to be interested in your Page.
The summary graph is nice if you are more of a visual person, and gives a very clear picture of your Page's relative performance over the last month.  The size of each purple circle along the horizontal axis is used to express posting frequency—the more activity, the larger the circle.  Do you see a relatively smaller circle corresponding with a dip in the other measures, or a relatively large circle corresponding with a spike? This demonstrates how engagement can be a function of how active you are on your Page (among other things, of course).
The Page Posts section is a log of all the posts you have made on your Page, and the stats that correspond with each. I'll delve into post stats more in the "Individual Post Performance" section of this blog post, but for now, just knowing that you can click on a metric to re-sort the list is handy!
Likes
On the Likes tab you can view a straightforward snapshot of the demographics of your fan base including gender, age, country, city, and language. Beyond these basics, there are a few interesting features you can find on this page:
At the very top, you can select a date range that you'd like to see data for, up to a maximum of 92 days (by default you only see a week). The graph at the bottom will now show "Like" and "Unlike" activity for that range, so you can keep track of any patterns that arise as a result of your activity.
Beside this graph, you can also track the sources of your new Likes. Are your recommendations bringing in lots of new Likes? Perhaps encourage some more happy customers to write recommendations. Did you invest money into a third party app that just doesn't seem to be doing much? Maybe it's time to look at it a little closer.
Reach
The Reach tab is laid out similarly to the Likes tab in terms of how demographic data is expressed.  Here, the difference is that the demographics are referring to users reached rather than fans.
But what exactly is "Reach" anyway?
Your Page's reach is the number of unique users who have been exposed to any of your Page's content during the date range indicated at the top of the page (which you can fiddle with, but note that data before July 2, 2012 only includes desktop users!).  On this page you'll see another handy graph depicting your Reach over time. Here are a couple of quick definitions from Facebook that may help you better understand where your Reach numbers are coming from:
Organic reach: The number of unique people who saw your post in News Feed, ticker or on your Page.
Paid reach: The number of unique people who saw this post through an ad.
Viral reach: The number of unique people who saw this post from a story published by a friend. These stories can include liking, commenting or sharing your post, answering a question or responding to an event.
And how is "Reach" different than "Impressions"?
Impressions are another metric you will see scattered throughout your insights that refer to the number of times your post is displayed to a user (fan or non-fan), whether they interact with it or not.  Impressions differ from Reach in that the same user can account for multiple Impressions (you can see the same post multiple times), whereas Reach refers to unique users, so often your Impressions will be a much higher number.
People Talking About This
On this tab, you'll see demographic data for users that are talking about your Page. Facebook defines somebody talking about your Page as any of the following actions:
Likes your Page
Likes, comments on, or shares your Page post
Answers a question you've asked
Responds to your event
Mentions (tags) your Page in a post
Tags your Page in a photo
Checks into or recommends your Place
Individual Post Performance
Throughout your timeline as well as in the Page Posts section of your Overview tab, you can access metrics about specific posts rather than your Page as a whole. Understanding your Page metrics help you decide whether or not your posts are effective, while Post metrics help you understand what made them effective or ineffective.
Reach & "x number of people saw this"
You know the drill on these ones, but to recap: Reach refers to unique users that saw your post and "x number of people saw this" refers to Impressions or the number of times your post was viewed (including multiple views by the same user).
Engaged Users
This one is really simple: the number of people that have clicked anywhere on the post (Liked it, clicked a link, clicked Share, etc.)
People Talking About This
This one differs slightly from its sister Page metric. A story is created on a user's friends' news feeds whenever they interact with your post by:
Sharing, Liking, or commenting
Answering a Question/Poll
RSVP'ing to an event
Claiming an offer
Virality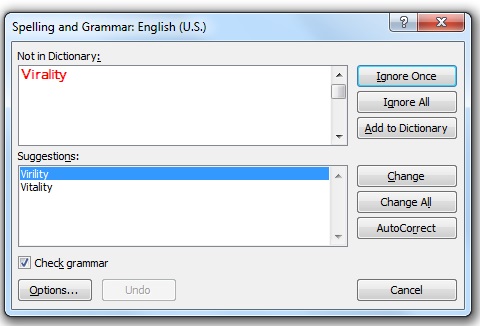 First of all, a side note: Did you know "virality" isn't yet in the Microsoft Word dictionary? I'm seeing that red squiggly line—mind-blowing! Get with the times Microsoft Word. Anyways, virality is the intuitive name for the number of people who interacted with your post expressed as a percentage of the total number of people who have seen it. Or simply, what percentage of people who saw my post decided to interact with it?
In the example below, you'll see how all of these post metrics can be used to evaluate your content strategy. The first post has fewer engaged users but more people talking about it and higher virality. This tells us that although not as many people were tempted to click, the ones that did click were extremely engaged–a great post overall. Perhaps beefing up the first line in the post or choosing a more captivating photo would have pushed it even further and boosted the engaged users. The second post had more engaged users, but fell flat in terms of people talking about it and its virality.  This tells us that lead-in or photo was really interesting and made people want to see more, but the content itself wasn't interesting or relevant enough to hold attention or spark an interaction.

If you're still reading this very lengthy guide, thanks for stopping by. Happy Page-managing!